Recommended Reading
Click on the links below to view the book on Amazon.*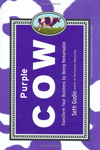 By Seth Godin
The classic bestseller that taught the business world that safe is risky; very good is bad; and above all, you're either remarkable or invisible.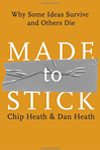 By Chip Heath & Dan Heath
"… will transform the way you communicate ideas…Provocative, eye-opening, and often surprisingly funny…shows us the vital principles of winning ideas–and tells us how we can apply these rules to making our own messages stick."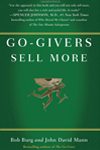 By Bob Burg & John David Mann
"It's far more productive (and satisfying) to think like Go-Givers. Cultivate a trusting relationship and focus exclusively on creating value for the other person, say the authors, and great results will follow automatically."
Technology Resources
There's a lot of technology needed to run a small business or medical practice efficiently these days. The good news is that there are many choices and most of them are remarkably inexpensive and relatively easy to use.
These are the tools I've come to rely on and recommend, based on first-hand experience.
E-mail Marketing
MailChimp
I migrated to this product from Constant Contact a while ago. I prefer it for its cleaner look and ease of use, plus I had wanted to learn how it compared to Constant Contact. For most of my clients this service is absolutely free.
Constant Contact
I worked with Constant Contact for over 5 years, using the platform for both my own newsletters and those I'd set up for clients. Great product, helpful tech support, and they're adding new features all the time. If you want a high quality, easy-to-use tool for your own e-mail marketing, this is a great choice too.
Online Printing Services
Moo
Moo's business cards are luxurious, printed on thick stock with a silky smooth finish, and really stand out. Digitally printed, they are competitively priced. While they print postcards and stickers too, I hope to see many more products offered in the future.
Vista Print
Self-serve printing of business cards, notepads, letterhead and just about anything you might want to put your name and logo on. Quality control is limited, but the customer service and interface for set up is top rate, and the results are usually quite good.
Web Site Building / Hosting
WordPress
Just about every site I'm involved with now is created on a WordPress platform. So much easier, totally integrated with social media, updates made in one place can be automatically populated across the entire site. No need to rely on the web site developer to make simple edits – you can easily do it yourself. Much more search engine friendly too.
HostMonster
I've been through several hosting companies over the years and HostMonster is one of the better ones. 24/7 tech support; unlimited disk storage; unlimited domains; and all for a very reasonable monthly fee.

BetterWhois
A simple, free, reliable tool for quickly checking the availability of a URL you may be considering.
Images
Getty Images, iStockPhoto, Canstockphoto
For a reasonable cost, you can buy the rights to download from among hundreds of thousands of photos/illustrations. Getty Images can be quite pricey but has nicer quality. Great for web sites, brochures, and newsletters!

Flickr
Millions of photos, free to use (with certain restrictions and requirements).
Screen-sharing
Join.me
A great service that lets you see my computer screen on your Mac, PC or any mobile device. There's no download required on your end (all you do is go to join.me and enter a code I would give you) and instantly, we can be reviewing pro forma spreadsheets or logo designs together, walking through a web site or doing anything else that requires two (or more) people to look at the same thing at the same time. And it's free.
LogMeIn
This is a terrific application when you need to remote control a computer, whether it's yours or someone else's.  I've enjoyed the convenience of having my support team access my computer to do remote trouble-shooting on my behalf.
Data Backup / Retrieval
Dropbox
With Dropbox you can create folders on your hard drive that not only allows you to share files with other Dropbox users, but you can access your folders from any computer, your iPad or your phone. It's great for exchanging large files with other folks. And it's free!
Crash Plan
For a small monthly fee, Crash Plan has your data back-up covered. I've used them to restore my entire computer's worth of data and it – very fortunately!
Miscellaneous Tools
SurveyMonkey
Easy and inexpensive. A convenient, electronic way to survey members in your practice, or otherwise.
Evernote
Need to store information in a searchable database and be able to retrieve it no matter where you are? I use it to store notes (both business and personal) to-do lists, ideas to pass on to my clients, lists of books I want to read, anything else I need to remember and use later.  I can access my information on my iPhone, iPad or on my desktop.
PayPal
You can use PayPal to quickly get up and running selling things on your web site. It's very simple. A PayPal account lets you get paid easily by other people and make payments too. Definitely worth having an account.
---
*Latady Physician Strategies, LLC is a (limited) participant in the Amazon Services LLC Associates Program, an affiliate advertising program designed to provide a means for sites to earn advertising fees by advertising and linking to amazon.com.